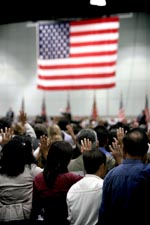 Civil Rights Can Be Restored In Nevada After a Felony Criminal Conviction
In 2003, the Nevada Legislature voted to automatically restore civil rights to first-time, non violent offenders upon expiration of their sentence or upon their honorable discharge from parole or probation.
Automatic restoration of civil rights does not apply to Category A felons, Category B felons whose crime caused substantial bodily injury, or felons with 2 or more convictions. These persons may, however, apply to have their civil rights restored. There is no cost to apply.
If you wish to get assistance from a legal firm for the expungement of your record to restore your civil rights, we highly recommend the services of RecordGone.com. They are the sponsor of this site and they are experts in Nevada Record Sealing Services.
The civil rights which are restored are:
1. Right to register and vote
2. If 4 years after discharge, right to run for and hold non-law enforcement and non-judicial elective office
3. If 6 years after discharge, right to serve as juror in a criminal case.
4. Right to serve as a juror in a civil case
Former inmates who were already expired as of July 1, 2003 were automatically restored to their civil rights upon the passage of this law on July 1, 2003. Records older than one year will have to be obtained from State Archives so allow two weeks for response to this request.
To apply to the Nevada Department of Corrections for civil rights restoration, print out and fill out Form DOC-2050 (PDF), and email it, fax it, or mail it to:
NDOC Offender Management Division
P. O. Box 7011
Carson City, NV 89702
Fax No: (775) 887-3243
E-mail: pmiller@doc.nv.gov